Boat tour to Capri with visit to the Faraglioni and tour of the island
An incredible trip to visit the Faraglioni and the enchanting natural caves
A full-day experience to be savored and remembered. A private trip by boat is one of the amazing things about a Capri island vacation. Don't miss its exclusive natural beauties! Explore them on a spacious and sporty yacht, including the service of a local skipper and guide. Start from Amalfi or Positano, cruise along their costs and then sail to Capri. Come on board!

ABOUT CAPRI

The experience of a lifetime
Capri is a stunning destination that you need to add to your travel bucket list. It's rich in luxury villas, exclusive restaurants and fabulous places to swim and spend a day close to nature. You shall not miss it during your real Italian holidays. The picturesque "Piazzetta", the famous Faraglioni and all the caves hidden amongst the rocks are very popular among tourists from all over the world. Check our Capri itinerary and find all the information you need to organize your trip with a "sea view".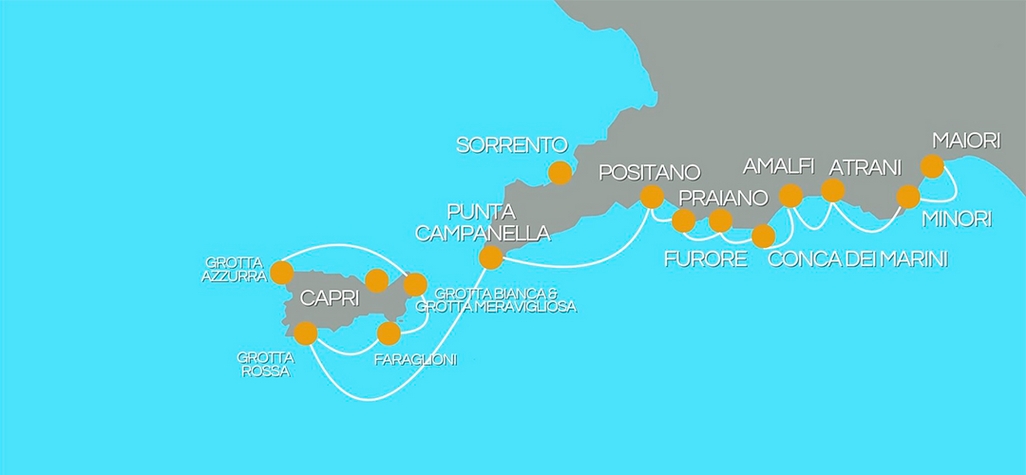 TOP DESTINATIONS

Boat tour highlights
What to visit by sea? We can suggest you some top places to admire in Capri that will leave you spellbound: the Faraglioni rocks, the most scenic caves and grottoes, and the picturesque beach of Marina Piccola. Get on board in the morning and sail off the island of Capri enjoying every little corner. It's an ideal trip for honeymooners, couples and travellers of all ages.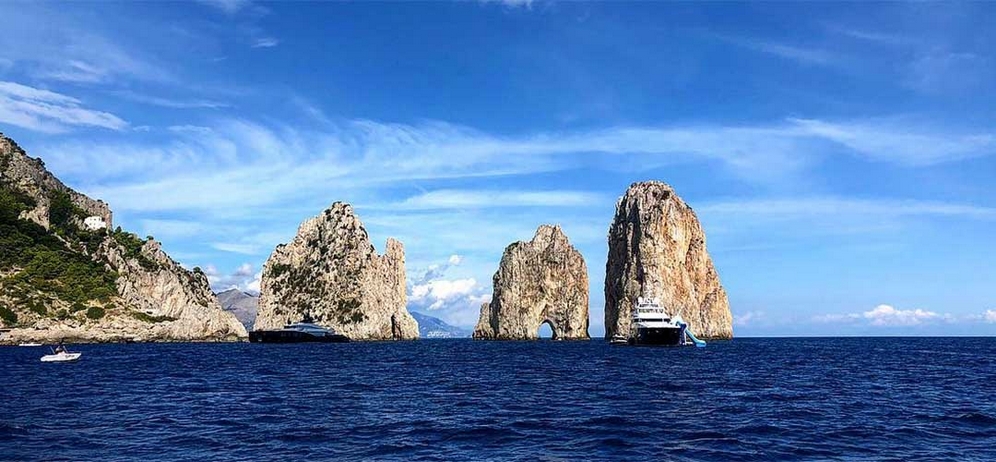 Faraglioni Rocks
The Faraglioni are the most iconic sight of Capri island. They are three rock formations which rise up out of the sea. It's amazing passing through them!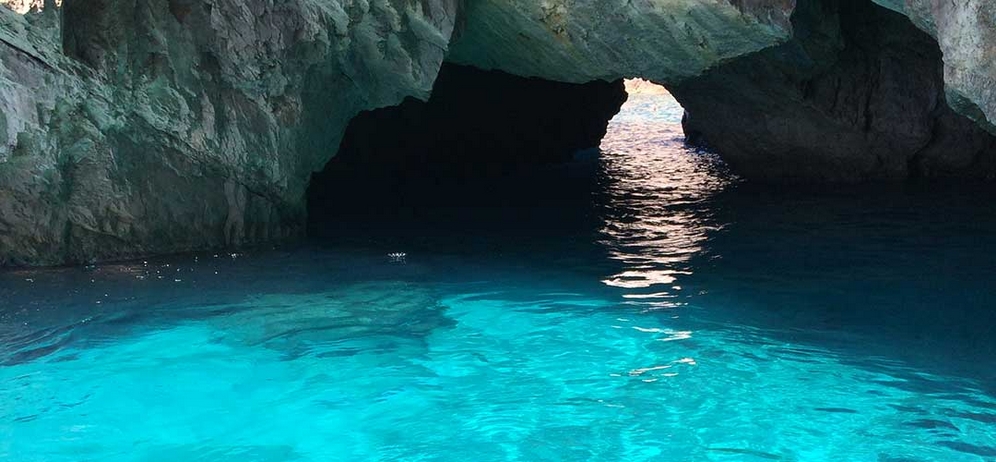 Capri's Grottoes
A complete trip of the island includes the visit all of its sea caves. With us you'll see the Saints Grotto, the Heart Grotto, the Green Grotto and the White Grotto.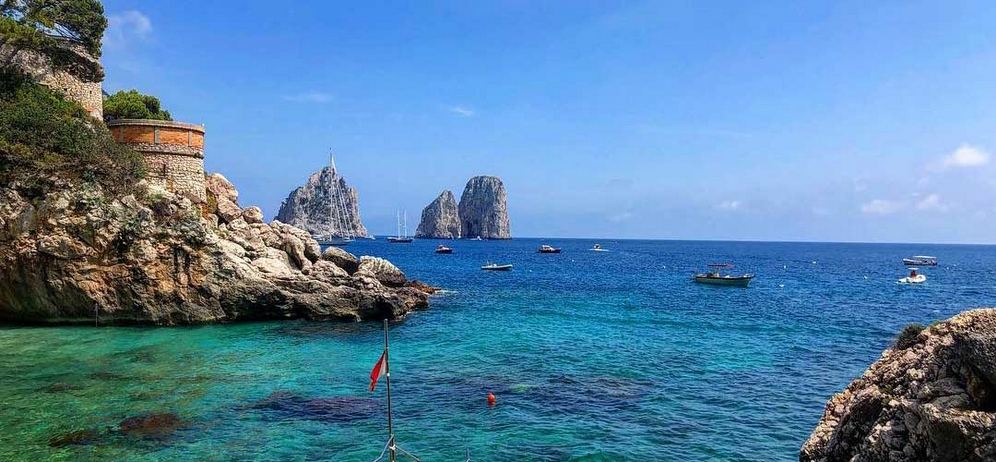 Marina Piccola
Marina Piccola is a beautiful bay located at the south of the island, near the Faraglioni. Its beaches are some of the sunniest location and its clear waters are always warm.

CAORI ISLAND BOAT TOUR

Book our full-day trip from Amalfi to Capri
A legendary tour between Amalfi Coast and Capri. Departing from Amalfi or Positano weìll make a little tour around the coastline and then we'll sail to Capri. Once we arrive on the island, you will be able to choose the best solution. Which do you prefer: to stay on board and make a tour around the island, to drop off at Marina Grande (landing fee) or to drop off at seaside restaurant in Marina Piccola?

Capri and Faraglion rocks
Whatever your request is, we will do our best to make it a very special day. Below is a description of a classic all-in-one-day private boat tour from Amalfi/Positano to Capri. Enjoy it!
We'll take you from the coastline of the Amalfi Coast to the blue island, passing by Conca dei Marini, the Fjord of Furore and Li Galli island.


Next, we will pass

Punta Campanella.

Here Ancient Greeks and the Romans built a temple in honor of

Athena - Minerva

.




From

Punta Campanella, set course for Capri

. Our first stops are the

Heart Grotto

,

Punta Tragara

,

the

Green Grotto

and

the

Saints Grotto

.

After visiting these beautiful sea caves, we can stop for a swim between Marina Piccola and the Green Grotto.

And now it's time to visit the

Faraglioni

for another swim

and pass through the arch of the

Faraglione di Mezzo

. If you're with your sweetheart, kiss her/him for a lifetime together!




We'll conclude our

Capri

tour with a little stop to the

White Grotto

.



Note: please be advised that to get to the Blue Grotto, you have to pay the entrance ticket and you have to wait in a long line, a detail that sometimes gets forgotten. Make sure to optimize your itinerary in the best way!
Tour information:
Highlights:
Faraglioni, Blue Grotto, White Grotto, Punta Tragara, Green Grotto
;
Passengers:
max 10 people;
Included services:
open bar with water, coca cola, prosecco, beer and welcome drink. Limoncello tasting and appetizers. Snorkelling sets, cushions, beach towels and lifebelts
;
Extra services on request:
restaurant reservations and grottoes entrance tickets.
Note: you can also decide to depart from Sorrento.

For more info about the tour, please send us an e-mail or call us at
+39 366 47 23 160
.
TESTIMONIALS

Boat trips reviews
We are very proud of what guests have had to say about our Amalfi Coast and Capri boat tour. Here are some of the many reviews we get from families, couples and friends who have enjoyed a day with Carmine, our high professional skipper. Relax and cruise with Amalfi Boat Tour!

"
Amalfi
boat rental graciously moved our trip because the weather on the originally scheduled date was not optimal (we could have gone out but I would have been a little choppy). Weather was perfect on the rescheduled date.
Carmine
the captain was excellent, we toured from
Positano
to
Amalfi
and back, with a couple of stops for swimming and for lunch.
"

Barryr44586